Affectionately remembered as nandi gopal - he was - is - & always will be the pride and honour of anchorwala ahinsadham. He has embodied his footprints in the guiness book of world records & limca book of world records.
The Guiness Book of World Records in 2002 have given a entry to nandi gopal based on these details [Horns - 9.2 feet length & 2.7 feet Diameter, Weight - 765kgs].
The horns had to be surgically removed on 21 August 2002 as they were affecting this health. Nandi gopal died in 2004 but his memory in the form of horns is till date preserved by us in an incubator. It is still the main attraction among the visitors to see his horns.
The Guiness Book of World Records 2002
Know About Gopal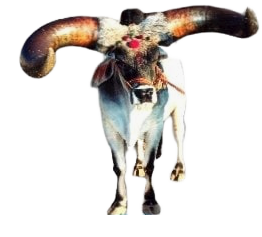 We Believe Gopal Nandi was the representative of the most powerful hindu load shiva.
His back (Khundh) was shaped in the form of aling.
When Gopal nandi bowed, his horns along with the ling formed the shape of trishul, below his forehead.
There was a natural formation of red dots in shape of OM.
His ears represented damru & his mouth was in the shape of kamandal.
In addition to gopal nandi's horns, our ahinsa museum provides an insight into the vegan living.
After his death we have built a samadhi mandir - Gopal Smriti Mandir as a tribute to the mighty bull for the stature he deserves.
The Guiness Book of World Records 2002
Longest horns on a bull
The longest bull horns each measured 1.4 m (4 ft 7 in) long and had a circumference of 0.79 m (2 ft 7 in) on 21 August 2002.